Photographer Philippe Paschkes Releases Limited Edition Fine Art Photography Fundraiser Book Entitled Africa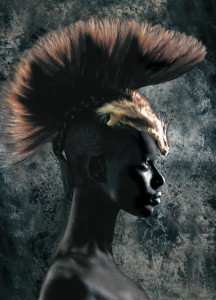 New York, NY (PRWEB) September 16, 2013
Photographer Philippe Paschkes will release a limited edition fine art photography book entitled Africa in November, 2013. One thousand copies of Africa will be available through Paschkes' website. The charity book will embody a preface written by Her Highness, Princess Charlene of Monaco, and portray images of African descendants from around the world cloaked in traditional African garb. The profit generated from the project will go to organizations dedicated to bettering the lives of African children.
Africa originated as a devotion to the beauty of the African land and her children and was inspired by the many years Paschkes traveled as an esteemed make-up artist for top international names in fashion and film. The uneasiness Paschkes experienced witnessing the gap between prestigious lifestyle and undernourished people and children drove him to eventually leave his profession in order to create awareness through the mediums he had mastered for 3 decades and his new medium, photography.
Paschkes considers himself lucky to have worked on Africa. "All the work I have done for the last 30 years influence my work for Africa although I never could imagine how difficult it was to create my dream to completion. Receiving the news that Her Highness, Princess Charlene of Monaco, would generously write the preface was a special moment in my life. Being able to work and create with all of the people who volunteered their time and love for the project... it wasn't very hard to work and to shoot these pictures since I love and I am so passionate about my work and about giving to those beautiful faces that seemed to ask me to do more and be more that I saw during my years traveling as a make-up artist. I dedicate this to them."
The work began in July 2009 and totals over 4 years in the making. During the final stages of production, once the collection was curated, Paschkes introduced the mission and fine art photography collection in Paris and Monaco at a few select galleries and private gatherings.
Friends and models who felt as passionate about the cause and the love of Africa generously volunteered their time and talent. Model Kahshanna Evans, Sonja Chung, Bertini Heumegni, Chaniqua Jones, Christopher Jones, Salam, Lee Jackson, Ayan Elmi, Hawa Diawara, Eva Ndachi, Jamia Eaton, Johanna Santos, Laurence Basse, Steven Brown and Jean Michel Vian Safiir Dobaria appear in the 130 page visual journey of traditional body painting and garb.
Over the course of several months, Artist Anne Domenech assisted Paschkes in creating a myriad of texture backdrops for the stylized photos. The Hungarian Pastry Shop, a local coffee shop in Harlem, supported the collaborative creative effort by lending space and support. With New York City as the ultimate resource Paschkes hand crafted the entire body of costumes and concepts including making jewelry and accessories. Paschkes sourced Bogolans, authentically died African fabrics found in Mali, Burkina Faso and Guinea from the African Market on 116th Street in Harlem. Objects in the book that appear as elephant tusks, animal horns, shells and corals are fiberglass replicas, careful research was done by Paschkes in order to promote Africa as a social conscious project.
Pending schedule Paschkes will decide on future awareness events in New York City.
About Philippe Paschkes:
For 15 years, Philippe Paschkes worked in France as a makeup artist and fashion creative for Harper's Bazaar, Vogue, Marie Claire, Grazia and Elle Magazines, countless high fashion runway clients and film projects. Paschkes continued his love of the arts in New York City serving as a makeup artist, creative and artistic director and designer for the next 15 years before picking up the craft of photography in the spirit of social awareness for his recent book, Africa.