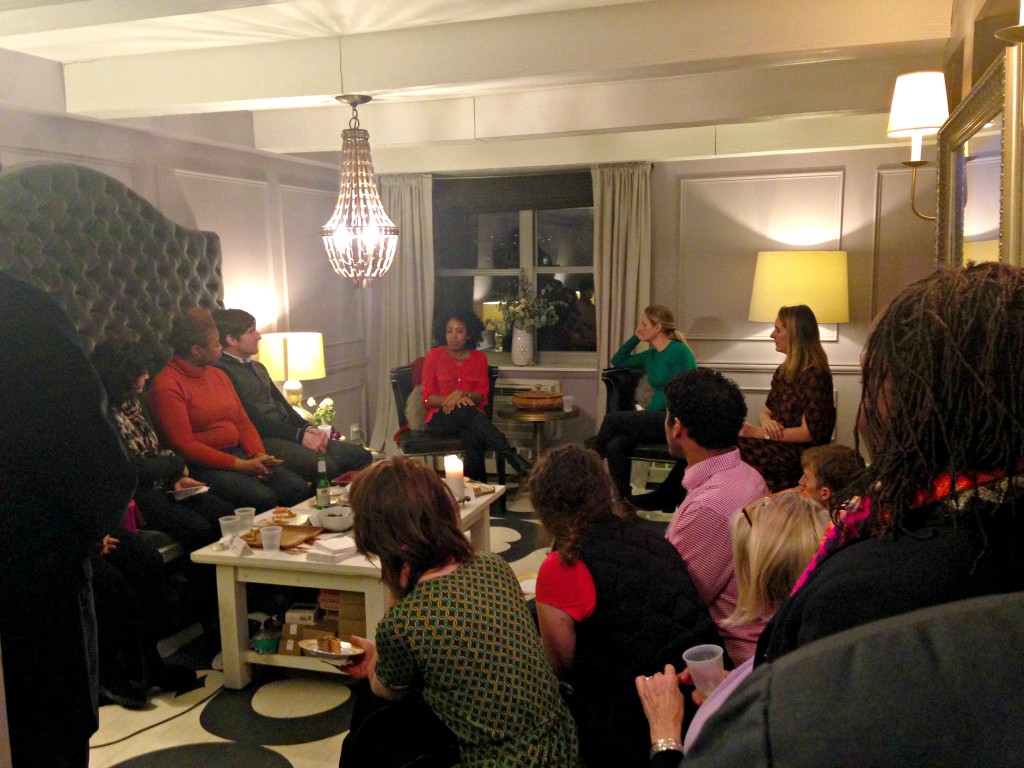 It was a rather long winter in NYC but we jumped at our chance to collaborate on a Pop-up Co-working event at Kissing Lions Public Relations HQ with SpareChair and their pals, who happen to be top trending brands (that made us swoon).  A mid-February collaborative Pop-up Co-Working event a-la-SpareChair in Harlem was just what the doctor ordered.  Niche and emerging virtual brands don't only have the opportunity to seek quality co-working spaces through SpareChair, they also have the opportunity to create a co-working space and community of their own to share with like minded colleagues.
In an evening supported by Silicon Harlem with bites provided by domesti-chef Kathy Ha of Tutorial to Table, chatter came to a quieted hum when powerhouse Katherine Zaleski of Power to Fly took to the seated area to chat about the best reasons to be a virtual super shero. We were all ears. It wasn't hard to stay inspired after hearing Khania Curtis of Hotworks Design talk about being swept away to Greece for clients who continued wanting more.
We caught up with SpareChair co-founder Sharona Coutts about the Q&A she masterfully lead. "For me, the top takeaways from the discussion were about how supportive people who work from home or remotely are to each other. I was delighted to see so much audience interaction. People asked and answered genuine questions. What are you favorite tools for team communication? How many meetings do you do per day/week/month in order to maintain team coherence? What is the right balance between remote work and in-person contact? I was also very happy to hear Katharine Zaleski's observation about mothers who work: specifically, that they are the best time managers. I think that remote work will have a profound impact on women's ability to invest the work-life balance and make it a life-work balance."
SpareChair is still in private beta. The start-up seeks to learn more about their growing community and are pretty excited to see so much activity between members. They plan to continue releasing new features that support social engagement among members. The fall and winter pop-up coworking has given way to spring and summer co-working jams at some of the favorite SpareChair venues throughout NYC.
Here's the real take-away from the Future of Work February SpareChair meetup, "In order to make the most of the freedom and autonomy of the remote work movement, we do need communities like SpareChair to keep us motivated, productive, and also, to make sure we keep expanding our professional connections."  It also doesn't hurt to remember no two co-working spaces are alike.
To find out more about the what the co-founders of SpareChair, Fernando Santana or Sharona Coutts, are up to, they've got a great blog!
Read more