Soho Contemporary Art Introduces Artist Rich Simmons in London Calling
 Sale and Exhibition
New York, New York (August 7, 2014) –   Soho Contemporary Art introduces artist Rich Simmons in his first solo exhibition in the United States, "London Calling." There will be a private VIP invitation only reception on Thursday evening, September 18, from 7 p.m. to 9 p.m. and a public grand opening on Saturday, September 20, from 1 p.m. to 4 p.m. Rich Simmons will be in attendance for both events.
Simmons, a rising star in the international art scene, is coming off of three very successful solo shows in the United Kingdom. In "London Calling," Rich Simmons is bringing his latest works to the Bowery, which includes recognizable imagery from pop culture, such as super-heroes that project his opinions and sense of humor on these familiar and well-known images. Simmons is best known for his street art piece celebrating the royal wedding of Prince William and Kate Middleton, entitled "Future ***King," depicting the royal couple as Sid & Nancy of the Sex Pistols, which went global within hours of its release.
The Bowery has been associated with street art since artists such as Keith Haring and Jean-Michel Basquiat called the street home. At Soho Contemporary Art, Rich Simmons' art is hanging next to those of Haring and Basquiat. They all use social commentary in their works, and their messages question different political issues. Jean-Michel Basquiat focused on suggestive dichotomies, such as wealth versus poverty and integration versus segregation, while Haring concentrated on sexuality, war, birth, and death; Simmons' work deconstructs subcultures and celebrates their relationships.
Gallery owner Rick Rounick anticipates the invitation-only VIP event: "Rich Simmons is an emerging artist coming from the United Kingdom, where he has had great success in his three solo shows. We are very excited to introduce him and his work to the New York and American art scenes. New York City and Soho Contemporary Art are the perfect place for Simmons to present his social commentary and sense of humor. For Rich Simmons to unveil his work next to artists who both rose to fame on the Bowery creates a visual timeline of the evolution of Street Art both on the Bowery and in New York City. Also, as an emerging artist, it is an opportunity for experienced collectors to invest in a painting by a future star."
Simmons, who has suffered from mild autism and depression, is enthusiastic about debuting in the Bowery as art has been a transformative medium for him. "Art saved my life, I really have a debt to art," says Simmons. "New York is such an exciting city culturally, and a lot of artists and art movements that originated in the city have played a huge role in shaping the art I love and the style that inspires me. My style is really inspired by street art, graffiti, pop art, and comic books, and New York has been the epicentre for the most iconic people in these genres. I'm hoping that while I'm here making the artwork for my exhibition, I can get the opportunity to share the message and story of Art Is the Cure (AITC) with people through schools and universities as a way to give back to the art community."
Simmons has trail blazed a whole new genre of street and pop art often inspired by retro, vintage style '50s imagery with pin ups, with silver era comic books having a prominent role in the work as well. Solo exhibitions thus far have explored beauty through just being yourself, seeing the beauty in everything, and observing a new perspective of beauty in the world and ourselves, inside and out, that travels beyond the obvious.
Collectors of Simmons' work include Prince Charles, Blink 182 front man Mark Hoppus, fashionista Chloe Green, and important private collections in New York, Singapore, Paris, Dubai, Monaco, and London.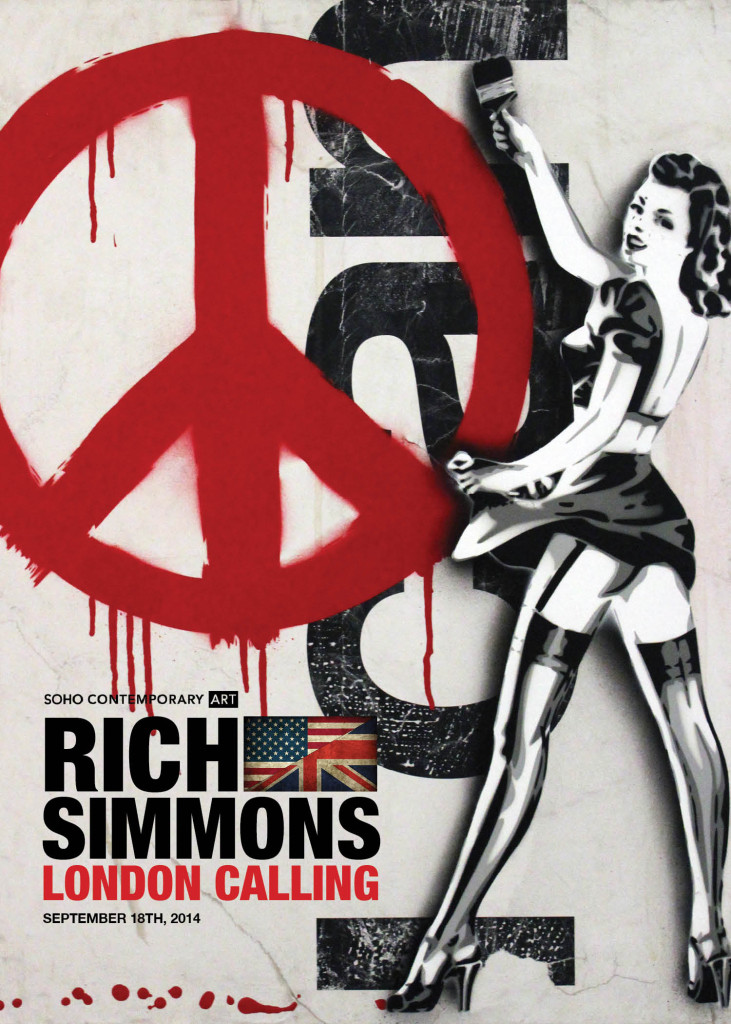 About Rich Simmons: Rich Simmons is an award-winning rising star in the British art scene who has garnered international coverage. Born in Peterborough in 1986, Rich Simmons now resides in London and is completely self taught; he is proud to be trail blazing a whole new genre of art—a fusion of street and pop art often inspired by retro, vintage style '50s imagery with pin ups, with silver era comic books having a prominent role in the work as well. The use of his bold color palette, hand drawn and hand cut stencils, drop shadow illusions and reclaimed billboards that have been pulled down from the streets are proving Rich is both an innovator and a highly collectable artist. Simmons is the founder of "Art Is the Cure." A social network for the creative community, the foundation promotes the idea that art—in whatever its form—is a kind of self therapy, and Rich uses his own story to motivate and inspire others.
About Soho Contemporary Art: Soho Contemporary Art is located in the heart of Manhattan's Lower East Side on the southeast corner of Bowery and Houston Street. Our 2,900 square foot gallery features the artwork of Alex Katz, Andy Warhol, Bambi, Burton Morris, Christopher Wool, Donald Sultan, Jean-Michel Basquiat, Jim Dine, Keith Haring, Neil Leifer, Robert Longo, Robert Rauschenberg, Roy Lichtenstein, Takashi Murakami, Tom Wesselmann and many others. With over 30 years of experience, we have provided the finest condition artwork at the best possible price points to collectors and galleries located around the world. Soho Contemporary Art is committed to maintaining the highest level of service to our clients. We cater to both the established as well as the beginning collector interested in investment quality contemporary art.
For interviews please contact Kahshanna Evans at PR (at) KissingLions (dot) com or call (646) 580-6076.